Together, We Can Help Save Thousands of Lives by Providing Pregnant Women Birth Kits.
All it takes to save two lives is a clean pad, soap, razor blade, two sterile cord clamps and a set of illustrated instructions.  
These are the contents of a clean birth kit.
Las-anod, Somalia, August 2014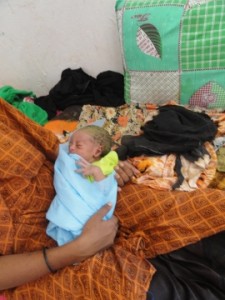 Our partner organization in Somalia informed World Birth Aid that the birth kits have been distributed.  Here are direct quotes
 "Mother delivered with the support of the birth kit.  The infant lives are  being saved by delivering with the birth kits used in the MCHs in Las-anod town."   "The distributed of the delivery kits has saved 9 women and their newborns already, who is delivering in distinguished health centers who were prone to death due to lack of proper and hygienic delivery kits."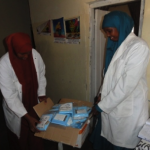 " Trained midwives and Nurses receiving the delivery kits at the General Hospital and other Health centers in the rural areas."
South Sudan, March 2014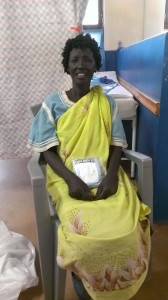 Almost three years after South Sudan gained independence from Sudan, the violence within the country has not subsided.  As in any armed conflict, the health of pregnant women and babies is immediately and catastrophically compromised.  Although aid organizations are struggling to operate in the current unstable environment a clinic that serves pregnant women has been opened in Duro.  An initial package of birth kits has arrived which will be used in the clinic as well as sent out to women delivering away from the hospitals with traditional birth attendants once the situation is a little more peaceful.
Nepal, January 2014
In addition to supplying clean birth kits to women in underserved communities, we value any opportunity to provide women's health education to those communities receiving our birth kits.  In coordination with the German organization GIZ, Yvonne recently returned from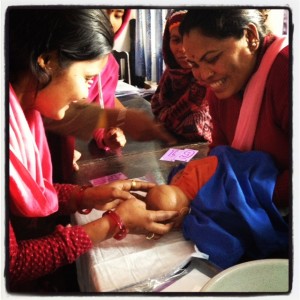 her second trip to Nepal this year.  While in Nepal, she provided two intensive four day training courses to 60 community leaders and teachers from remote communities in Western Nepal that were largely isolated during Nepal's civil war.  In addition to birth kit distribution and demonstration, participants of the training session were taught how to re-teach a basic course covering women health, prenatal care, birth, neonatal resuscitation and emergency medical care.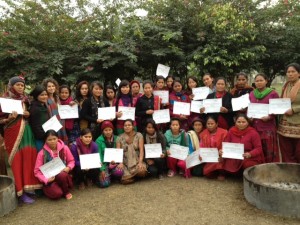 The women here are the participants of the workshops that are now not only supplied with birth kits but also have the knowledge and training materials that they have been instructed to "multiply" in their home communities.
The Democratic Republic of Congo, December 2013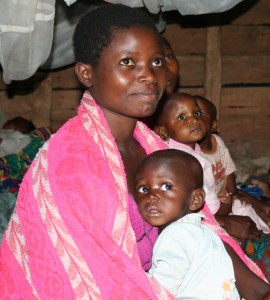 Working with the small but determined organization Channel Initiative, we have sent birth kits to Mwenga, which is in the territory in Eastern Congo where 148 of 1000 children will not reach the age of five. Almost one in five deaths of women between 15 and 49 years is due to maternal complications. This makes it one of the most dangerous places in the world to deliver a baby.  We have received word back that the need is so great that the birth kits are being re-used repeatedly.  We are working to find a way to send more birth kits to the region as soon as possible.
Pictures Say More than Words:-
Birth Kits finally arrived to Sierra Leone to be given out to family members and child birth assistants.   In addition, the Birth Kits are carried to the remote Kono region of  Sierra Leone.  No vehicle access to these remote regions.
Nepal, April  2013
I recently returned from  Nepal in order to begin setting up a sustainable program of birth kit distribution as well as a women's health workshop for rural underserved communities.  I am hopeful this coordinated effort with Deutche Gesellschaft fur Inetrnationale Zusammenarbeit (GIZ) who has been operating in multiple regions of Nepal since 1975, will give us a stable long term partner in our continuing efforts in the region.   Through the combination of increased health education as well as a simple clean birth kit we can make a positive impact. The Nepalese have the lowest life expectancy in Asia and although health care has improved since the civil war ended in 2006, only about one fifth of births are assisted by a doctor or midwife.  Women in rural areas have little chance of receiving any care before, during or after the birth of a child.
YEAR 2012
2012 also marked the first time World Birth Aid expanded our efforts to also help provide anti hemorrhage medication to underserved hospitals.  Misoprostol is a low-cost and life-saving drug, which has just been added to the World Health Organization's Model Lists of Essential Medicines (EML) for the prevention of postpartum hemorrhage.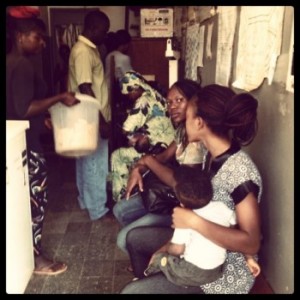 Postpartum hemorrhage (PPH) is the leading cause of maternal mortality, accounting for nearly one quarter of all maternal deaths worldwide, reaching as high as 60% in some countries.
 Simply put, this pill can save lives by preventing women from bleeding to death after delivery. While many women in Africa do not deliver in hospital settings, those fortunate enough to receive this increased level of medical care often do not have the benefit of the most common anti-hemorrhage medications due to the expense of purchasing and transporting the medication. In coordination with the wonderful British organization Life for African Mothers, we were able to deliver 5,000 tablets of Misoprostol to a hospital in Monrovia, Liberia. In addition, we were able to send 3,000 additional tablets of Misoprostol to hospital centers in Freetown, Sierra Leone. This will be enough medication to assist as many as 2,660 women who are experiencing post-partum bleeding.
December 2012
 2012 was a year filled with anticipation, frustration and excitement. The year began as our shipment of 5,100 birth kits were shipped to our partner organization in Sierra Leone.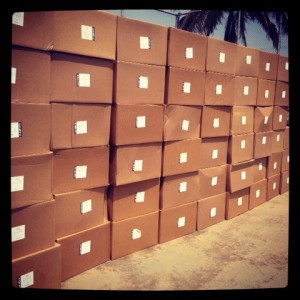 Although our shipment was to be personally received by Sierra Leone's First Lady in order to expedite the importation process, the opposite occurred and after our container entered the port of Freetown our shipment was "lost" and apparently looted.  However, after months of lobbying through various channels, 5,100 birth kits suddenly appeared for a photo opportunity in the President of Sierra Leone's front garden.  The kits will now be distributed in the intended region.  Our birth kits arrived a little later than we had hoped, but certainly sooner than we had feared.
Kenya/Somalie Border – Clean Birth Kits Distributed.
Although medical care is improving within the gates of the Dadaab refugee camps, surrounding communities remain unserved.   In 2011, women along the Kenya/Somalia border have and will continue to receive our birth kits.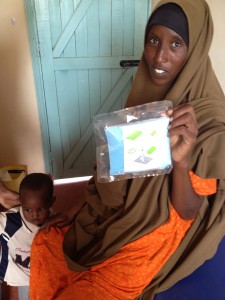 A birth kit recipient in the village of Damajale.
She delivered one week  later in her home (pictured below).
By using a clean birth kit she has lowered the risk of  infection for herself and her baby.
December, 2011.  5,000 Birth Kits Sent to Sierra Leone. December
We are happy to announce that 5,000 birth kits have been packaged and shipped to Sierra Leone.  Once they have entered the country, with the help of our partners we will begin the work of distributing birth kits to rural clinics, Traditional Birth Attendants and pregnant women.

© Barbara Grover, 2008
World Birth Aid is a humanitarian, 501 (c)(3) nonprofit organization dedicated to providing clean birth kits, free of charge, to pregnant women denied access to a clean birthing environment in refugee camps and other impoverished areas of sub-Saharan Africa.
Through our actions we will help save the lives of mothers and newborns in these high-risk areas.